My Biggest Healthy Eating Trick!
What is THE most important thing I do each week to eat as clean as possible? The Sunday ritual! For those of you wondering, no, I'm not talking about going to church. I'm talking about spending about two solid hours each week, planning, buying and preparing my meals for the week. This food preparation is key!
Here's the food preparation plan I complete over 2 hours on Sundays:
Write out all meals for the week. For us, this incorporates only dinners since shakes and salads are all of our weekday lunches.
Build a grocery list of items we need to buy that are not currently on hand. This will help you save money. If you don't do this, you will end up with 3 balsamic vinegars in your fridge – it has happened to us!
Grocery shop with the list. Again, following the list this will help you save money. It will deter your from buying those overpriced, processed, impulse items located at the cash registers.
Pre-cook meat protein – (freeze half of it to use later in the week). This will reduce your weekday meal preparation time dramatically.
Pre-chop and wash vegetables – for 4 – 5 days. Storing them in veggie containers will we expand the life of the produce – we use FridgeSmart containers by TubberWare. If you have healthy veggies cut up and ready to eat in your fridge, you will eat more of them!
Blend and portion out shakes – for 3 – 4 days. I'm not a morning person so making a shake at 6am is not something I want to be doing. I need a 'grab and go' breakfast.
Pre-boil eggs – for 2 – 3 days. These make great 'after work' snacks. They're also terrific in salads.
Pre-chop & freeze herbs – for the week. Herbs are a great and natural way to boost the flavour in your meals. Make them easy to use.
Pre-cook whole grains (ie. Quinoa, rice, etc) – for 3 – 4 days. Again, this step will dramatically reduce your weekday meal preparation time.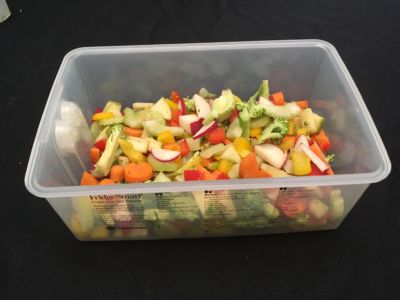 The Importance of Food Preparation
I try to complete these actions almost every week, even after a cottage weekend! The weeks that I don't do this on Sunday, are the weeks we truly don't end up eating as healthy. They are the weeks that we may order in by Thursday because I just don't feel like cooking anymore.
Food Preparation Saves Time
You may be thinking that 2 hours sounds like a lot of time to spend on meal planning. The fact is, by completing all of these actions in batches, you will save yourself hours of time!
Imagine having to pull out 5 different veggies every night and wash and cut them each night; image having to fire up your BBQ 5 nights a week versus just one time on Sunday.
Studies have shown that we save the most time when we do things in batches. Each task requires different mindset so we're most efficient when we complete one action at once.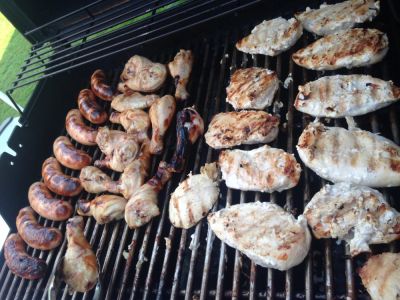 Food Preparation Increases the Amount of Healthy Food Eaten
You may have heard that foods, veggies in particular, are freshest right when you cut or cook them. This is true. But if I don't perform my Sunday ritual, which includes cutting and cooking food a head of time, I don't eat as healthy. I believe that the benefits of preparing as much of my food in advance, outweigh the negatives.
To Sum it Up…
Believe me when I say, if you don't plan and prepare your meals a head of time, healthy eating will be much more challenging and time consuming. I challenge you to spend the next three weeks completing your own version of the Sunday Ritual. If you do not find that it is saving you time while simplifying healthy eating for you, than go back to your old ways. But way not give it a try? Please share your experiences here.