Homemade Soup!!
What better style of meal can there be after a long, chilly day in November than a delicious, flavour bursting bowl of homemade, healthy soup?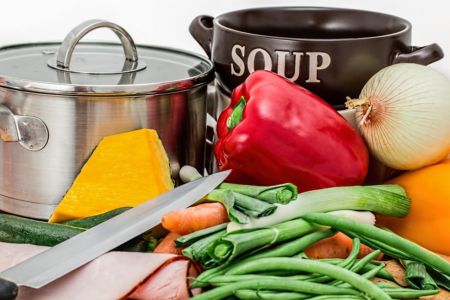 Homemade Soup is the Best, Here's Why:
1. It's an easy, super healthy, weeknight dinner. Just toss a bunch of veggies into a pot with spices, broth, hemp hearts and beans, and voila, you're done! Limit the salt you add, to keep your soup even healthier.
If you're starving when you come home each night, cook your soup in a slow cooker all day and it will be ready as soon as you open your door in the evening.
2. Every ounce is consumed. A great benefit of this healthy meal choice is that the water you boil the veggies in isn't thrown out afterwards so you ingest every ounce of nutrition from the veggies and ingredients you cook with!
3. It never gets boring. It's so easy to switch up the taste of your soup by changing the spices, veggies or protein source you use. This variety makes soup a terrific, and easy meal to add into your weekly food plans. Be creative!
4. Build it from your leftovers. If you have veggies that are starting to look overripe, toss them into your soup. This is a great meal choice to use up anything you have leftover in your fridge. Even a little remaining pasta or stir fry from dinner a couple of nights ago will give most soups a delicious flavour boost.
My Top 3 Vegetable-Filled Soups
1. Green Detox soup.
This is a terrific, flavour packed soup to make after a long weekend when you haven't eaten in the healthiest way. It will kick-start you back into feeling energetic and ready to tackle your week!
2. Roasted Tomato soup.
This delicious soup is a great one to try when you're craving an Italian meal, without the pasta. Roasting the tomatoes adds so much more taste.
3. Cauliflower & Leek.
This recipe is very quick and easy to make. The soup tastes so thick and creamy, you'll barely taste the difference between this soup and it's much unhealthier potato-based version. I will warn you, it doesn't freeze well.
To Sum it up…
Nothing can beat a flavour-bursting bowl of homemade soup during these cold days we're now experiencing! Soup is an easy, healthy weeknight dinner. You consume every ounce of the nutrients in a homemade soup and it never gets boring because it's so easy to switch up the taste of your soup. Toss any leftovers in your fridge into the pot to try giving this meal a different twist.
What's your favourite soup?