Strategies to Cut Meal Making Time in Half!
Despite the longer hours of daylight we get, we're all busier in the summer. We want to be outside enjoying the sun, versus being inside, either cooking over a hot stove or shopping in a grocery store. Here are my favourite quick healthy cooking tips.
Try these 4 'Quick Healthy Cooking' tips now:
1. Buy pre-cut and washed veggies.
These foods may be a little more expensive, but if it's time that you're looking to save, they're worth it. When healthy foods are readily available in your fridge, you will be more likely to eat them which is the goal with healthier eating.
2. Try batch cooking.
If you're following a recipe for your family of four, double it up and make enough for two dinners and maybe even a lunch if you're lucky! Always cook more meat than you'll need for that evening's meal and toss it in the following night's dinner. Eating leftovers is a great way to save time in the kitchen. Use these 'leftovers' nights to spend more time outside – enjoy a long walk or bike ride during these evenings.
3. Keep your kitchen organized.
Working in a clean, well-organized kitchen, with accessible tools and aids makes cooking quicker. Make sure your counters display only healthy foods (put all of your junk food in hard to reach areas that are out of site). Place any appliances and tools you use regularly, in easy to reach areas. Wash your dishes daily, you don't want a filled sink to be the thing that propels you out of the kitchen and into calling for takeout.
4. Pick one day a week to complete your major food prep tasks.
Spend a couple of focused hours to create your meal plan, grocery list and do your shopping each week.  After your grocery trip, wash and chop your veggies, placing them in ready-to-eat seal tight containers and cook the bulk of the meat you'll be consuming for the week. You can freeze a portion of the meat and defrost it as you need it. Believe me, this meal prepping will keep you eating healthier and save you multiple hours of cooking time throughout the week.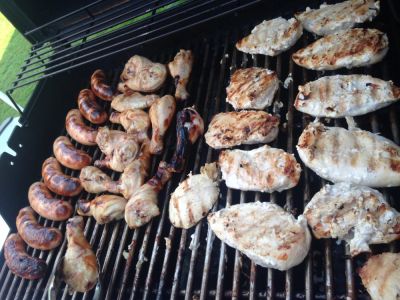 To Sum it up…
None of us wants to spend a ton of time in the kitchen, especially during these last days of summer. Buying ready-to-eat veggies, cooking in batches, keeping an organized kitchen and performing food prep tasks during one day are all strategies to get you cooking quicker. These tips will give you more time to enjoy the outdoors. Try one of these strategies and let me know how it works for you!