What's a Terrific and Free Fitness Tool We Can all Start Using Today?
They may not be 'sexy' and new, but they're one of the most efficient exercise tools out there.
Get your heart pumping and your muscles burning simultaneously, within only minutes of using this tool!
All fitness levels, from a beginner exerciser through to an Olympic athlete can be challenged with this exercise tool.
They are located in condos, malls, office buildings, houses and local parks so they are available to everyone.
What am I talking about??? Stairs of course!
I love stair climbing because of all of these benefits!
My Favourite 3 Stair Climbing Routines:
Tabata Racer. Race up as many flights of stairs as possible for 20 seconds; climb slowly back down a flight or rest for 10 seconds and repeat. Complete this pattern eight times in a row if you can. You may have to build up to finishing eight sets.
Steady Climber. Climb the stairs at a steady pace for 10-20 flights straight if possible. Increase the number of flights you're able to climb, over time. This type of endurance climbing will lead to a real leg burn!
Boundless Hiker. Race up the stairs two at a time, as quickly as you can. Stair climb for 30 seconds, then rest for 30 seconds. Try completing this pattern 4-6 times straight.
Stair Climbing Safety
As usual, I want you to be safe while performing these stair climbing drills. Follow these tips to maximize your safety.
Look down. This is one of the few exercises I often recommend my personal training clients to look down at their feet while performing. If you don't, it's too easy to miss a step and either fall, bang a shin or roll an ankle.
Wear appropriate foot wear. Stairs can be slippery so wear running shoes while performing all stair climbing drills whether you're inside or outside.
Pay attention to your knees. If you start feeling any type of knee stress when stair climbing, stop. This form of exercise can be demanding on your knees so I don't recommend you perform it more than once a week. If you have any hesitations, speak with your doctor.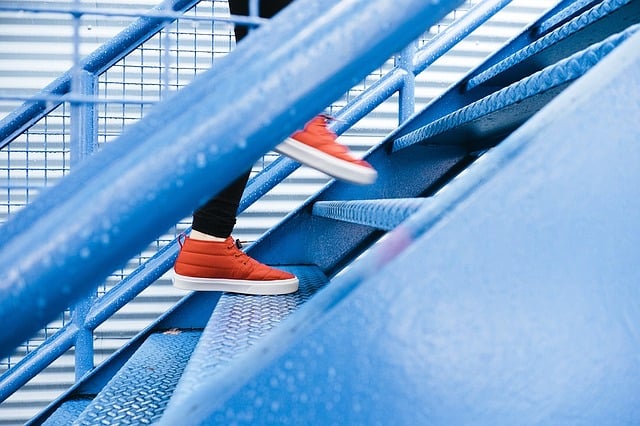 To Sum it up…
Stair climbing offers so many benefits. It gets your heart pumping and your muscles burning simultaneously. It challenges all fitness levels and it's available to everyone since they are located everywhere. Try the three stair climbing routines I've highlighted above, and let me know which one you like best.