Keep Working out While on Vacation
Many of us are still enjoying summer vacations, cottage life and camping this month. Vacations should provide you with the opportunity to reboot and recharge, yet it's important to stay on track with your exercise program during this time.
Besides keeping my workouts a little shorter (I don't like missing any action going on back at the cottage) and performing them first thing in the morning (I'm usually done a 30 minute workout before my friends have finished their first cup of coffee), there are a few tools I use to keep myself motivated while when I'm away from home.
Here are 4 of my favourite 'travel fitness tools':
1. TRX Suspension Trainer.
This form of exercising is really cool – it works the whole body at once, building strength, endurance, flexibility, coordination & balance simultaneously! Your core, is engaged during the entire workout to stabilize & balance the body in a real-life kind of way. Another benefit of this easy-to-pack equipment is, it gets you off your butt – which is important because most of us sit 15 hours a day (a lot of weight equipment still encourages people to sit). Here's a TRX full body program that I often use on vacation:
2. Resistance bands.
Resistance band training is a great way to get in your strength training, which is critical to healthy functioning, posture & balance. Research has shown that those who work with elastic resistance bands, achieve almost the same benefits as machine or free-weight training. Here's a Resistance Bands full body program that I often use on vacation: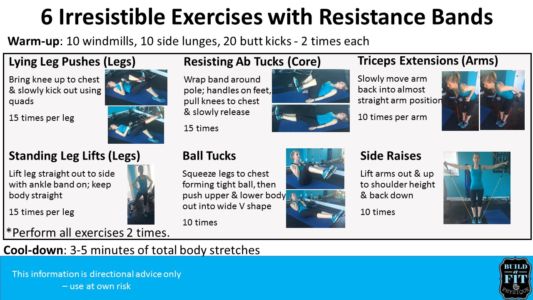 3. Run or jog.
This is an effective way to get your cardio in, while enjoying the beautiful scenery surrounding you at your vacation destination. Research shows that running and walking provide us with numerous health benefits including: a reduction of heart diseases, strokes, arthritic pain and depression; the ability to aid in weight loss. If you're new to running, begin with a walk/run combo for ~20 minutes at a comfortable pace. Gradually increase to more running/less walking until you can run continuously for 20-30 minutes.
4. Body Weight training.
This convenient form of resistance training doesn't require any equipment at all. These exercises often work many muscles at the same time, making them efficient on your limited time. They're fun to perform throughout your run (ie. run 500 metres – drop down into 10 push-ups & 10 crunches – run 500 metres – drop down into 10 tricep dips off a bench & 10 bicycle curls…etc). Have fun with this form of exercise by using props around you.
Just because you're on vacation, doesn't mean you can ignore your fitness regime.
It will probably differ versus your standard home routine, but there are a lot of 'travel fitness tools' out there to keep you moving. After all, aren't many of us exercising and eating healthy to be able to 'Enjoy More Life'?!? Please send me a comment if you're using an exercise tool when you're on the road, that I haven't mentioned above. I'd love to hear from you.